Why Chameleon?
The "Chameleon Retractable Spray Enclosure" presents the latest innovation to serve many industries including automotive, manufacturing, aerospace, furniture and wood finishing. We provide you with a solution that meets government health and environmental standards without the need to expand you current square-footage. Many industries use our spray enclosures because they:
Are customized to your requirements
Fold away to a fraction of its size for space-sensitive settings; Customized to any size
Meet the government health/safety requirements
Allow painting of large and hard-to- manoeuvre work pieces
Leaving valuable floor space available for other work
Create ideal controlled environment to give you world-class finishes
Reduce clean up time and increase productivity
Retract to 20% of its extended length
Start doing the spray paint jobs that you did not have the space to do
Retracts to give 360° work piece delivery access to work area
Folds away to transform paint area into a work area
Maximized usage of work space; the same work area for spraying and non-spraying operations
Adapt to the filtration system of your choice
Add your existing filtration & fire suppression system or add a new set.
Many front door configurations available, including rope-operated roll-up door with dust/air
intake filters and lock system
Features
Durable 14-ounce reinforced PVC shell, yet highly translucent for clear lighting
Translucent, fire-retardant shell (NFPA 701); Allows exterior lighting to shine in
Custom built to any desired size for indoor or outdoor use; Retracts to 20% of its extended size
Filtration systems available and customised to your needs (EPA 6H compliant)
Customized front door for air flow filtration requirements
Custom fitted rear wall to accommodate the filtration system
Delivered in kit form with full installation instructions
Upon evaluating the characteristics and concentration levels of airborne paint at your job site, a highly qualified Chameleon clean air professional can help you properly select the size and type of air cleaning system that will provide the best air quality solution.
Filtration Systems Available:
Type
Filters
Fans
Motors
Vents Outdoors
Fixed Cross Flow Filtration
Premium
24″ to 32″
2 to 10 HP
Vents Indoors
Portable Localized
4-Stage
13″
3/4 HP
Fixed Cross Flow
4+ Stage
24″ to 34″
2 to 10 HP
Constructed in Heavy-gauge Galvanized Steel Housings
Approved UL and cUL Motors
Available in Single or 3-phase Electrical Input
Meets OSHA, NFPA and EPA Requirements
Included manometer or draft pressure gauge that monitors filtration efficiency. This gauge measures a drop in pressure across the filters, and indicates when the filters need to be changed.
Mobile units have steel casters and heavy duty handles on both sides for rolling into position; they also have reinforced eyebolts on top for movement by crane
Fire Suppression Available Separately
1 Year Limited Warranty
Complete Range of Fire Suppression Services:
Complete Range of FS Services
System Design & Drawings
Approval Letter from the Manufacturer
Experienced Consultant
Communications with Local Authorities
Local Approved Installer Coordination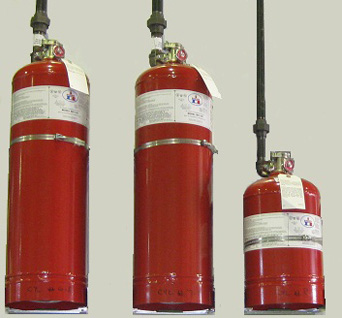 Chameleon's Fire Suppression System:
An approved automatic extinguishing system that meets NFPA 33 for spray areas (14.3.1)
Includes a UL 1254 dry chemical extinguishing system
NFPA 701 tested and approved fabric and a dedicated mechanical exhaust and filtration system
A dedicated make-up air system is supplied by the customer when necessary
Industry Guard:
Industry Guard Dry Chemical Fire Suppression, pound for pound suppresses more fire than any other agent.
Conforms to NFPA 17 for dry chemical systems & to NFPA 33 for spray applications using flammable and combustible materials.
Total Flooding System:
Our system electronically protects totally enclosed spaces filings the protected space with ABC dry chemical
Meets ULC 1254 coverage of all areas, utilizing overhead nozzles in the work area and nozzles placed in the plenum and duct.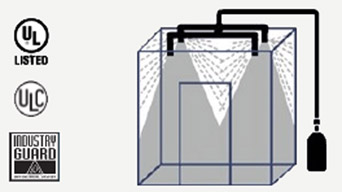 Releasing Control Panel:
The releasing control panel is listed by UL / cUL for use with agent based fire suppression systems.
The panel utilizes a microprocessor-based system.
It is housed in a durable steel cabinet with removable door and key lock.
The cabinet contains knockouts on the side, back and top of the cabinet to ease installation.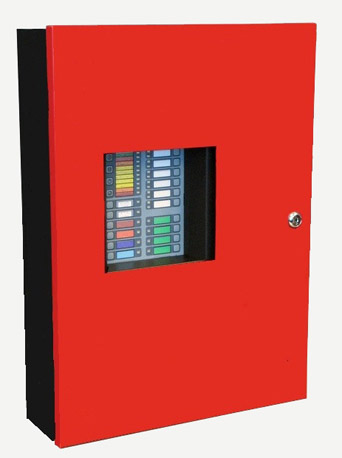 Fenwal Detect-A- Fire® (DAC®)
These highly reliable devices have been an industry standard for over 45 years.
Many of these units are now in use controlling the release of extinguishants.
Used as an alarm device to sense over heat or fire and as a release device to sense fire and actuate fire attack systems.
"Rate Compensation": DETECT-A- FIRE's unit accurately senses the surrounding air temperature regardless of fire growth rate precisely predetermines the danger point and activates the system.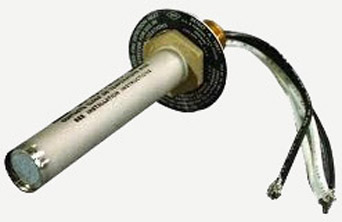 Why would I want a retractable vs. a typical metal booth?
Retractable spray enclosures make work areas more profitable and allow superior access to the work area. This solution is not less expensive than a metal spray booth nor replaces one. It offers a much better return on investment. In the automotive industry, Chameleon retractable spray enclosures serve as excellent Limited Finishing Workstations or Prep Stations. They retract to allow you to regain the use of the work area for body work or vehicle maintenance. In manufacturing or industrial finishing, our retractable spray enclosures provide 360° access for overhead cranes and forklifts to the spray/work area.
What does the spray enclosure come with?
The spray enclosure comes with the first set of dust filters and all the necessary hardware and instructions for assembly.
Will the exhaust plenum run on single-phase power?
Our most economical exhaust plenums come standard with a 3-phase 230/460V/60HZ motor. Single-phase motors are available for a small charge. Just tell your sales representative that you want 1-phase motors or indicate the voltage that you require (if not listed above).
Do I need to have a forklift to unload the enclosure when it arrives?
Ideally you should have a forklift. If you cannot provide a forklift, you can break open the crates in the truck and unload the pieces one at a time. You will need to make arrangements with the delivery driver if this is the case (extra charges may apply). You must let us know if you will not be able to arrange a forklift at the time of your order.
What about over spray?
In many applications, over spray does not reach the walls with good airflow. If you wish to stay on the safer side, over spray is best avoided by hanging clear plastic masking sheets on the side walls. When spraying close to the walls, it can be unavoidable and sheets of plastic must be hung. Keep in mind the shell can be easily replaced.
Do I need to buy anything else with this booth?
Yes. For basic spray painting you will need to purchase an exhaust plenum, exhaust duct and a control panel. Chameleon offers an economical exhaust plenum (EPA 6H compliant). We offer a number of filtration systems (aka exhaust plenums) to meet your specific requirements. You may also be required to install fire suppression in your spray enclosure. Please contact your local fire marshal or local authority having jurisdiction regarding fire suppression (normally according to NFPA 33 – Limited Finishing Workstation or Prep Station) prior to purchase.
How is the enclosure shipped?
Chameleon retractable spray enclosures are shipped in kit form by truck. We will provide you with the most economical shipping price available. Just ask your sales representative.
How long does it take to assemble the enclosure?
An indication of assembly time will be provided on your quotation. The spray enclosure takes less than 1 day to assemble with 2-3 people. You should hire licensed contractors to install the exhaust duct and hook up the electrical.
IMPORTANT NOTE:
When purchasing any type of fabric/flexible spray booth, you need to be informed that fire marshals (or the local authority having jurisdiction) classify these retractables as 'limited finishing workstations', according to NFPA 33 and other similar codes. This means that you are limited to 1 gallon of spray painting per 8 hrs period. Some fire marshals will OK these enclosures for more than 1 gallon/day if an engineer, in your state/province, signs off on the design. You need to address this with your local fire marshal and review your local fire code regarding spray booths, before purchasing this product.
"We have flexibility to move a lot of diversely sized parts in and out. We don't have to have tons of new lamps since plenty of light comes in. We have a lot more control over our environment where before it was all open to everything. It was painless to install. The service that we have gotten is thorough and professional. The representative that I worked with was very honest and upfront about the product and answered every question satisfactorily."
Jeremiah Luntsford, Lead Industrial Design Engineer, Door Engineering & Manufacturing
"The portable filtration units we purchase from Chameleon are perfect for our operation. They do a great job filtering bondo and paint dust at the source. I am happy with the product, from the packaging the units were shipped in to their ease of maintenance. You were helpful in selecting the right units for our operation and quick to respond to questions I had about electrical requirements. I look forward to sending future inquiries Chameleon's way."
Justen Walton, Engineering, OEM Fabricators, Inc.