Engineered Design
Knowledgeable and innovative designs and upgrades engineered to your needs
Customize your Chameleon; Van doors, digital photo graphics, double lift bows, and etc.
Continually developing and updating our rolling tarp systems
Offering upgrades and retrofit guides applicable to our existing systems
Industry Leading Service
Largest dealer and service center network in the industry; 45 locations in North America
Experienced service centers facilitated with the support, tools and know-how
Industry-leading sales and technical support
Giving away safety features and upgrades free-of- charge; Standard air-deflector, LED lights, chain rack, reflective tape on tarp/door and more…
Quickest and Safest Rolling Tarps System on the Market
Save your time loading & unloading your cargo
The Safest system fully operable without putting a foot on the truck or trailer
Reduce downtime due to modular design allows quick and easy repairs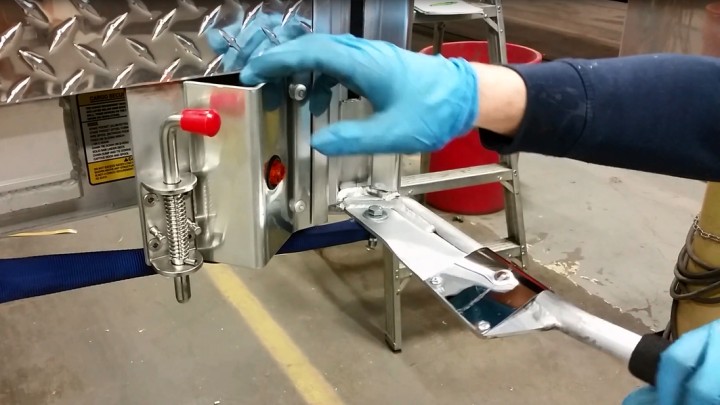 Easy-to- operate Front Tensioning Handle and Wing;
No tensioning tool is required.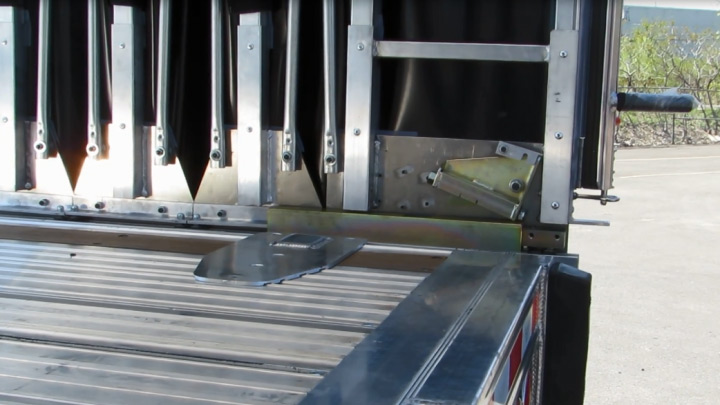 Adjustable Rear Lock;
Simple and no tools method of opening the system from the back.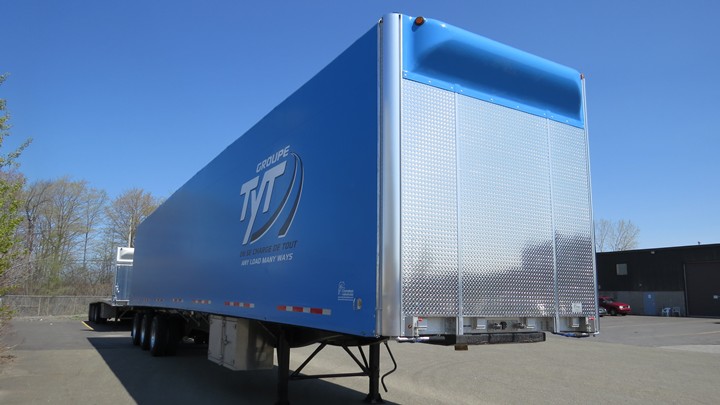 Lightweight Aluminum Headboard;
Integrated chain rack.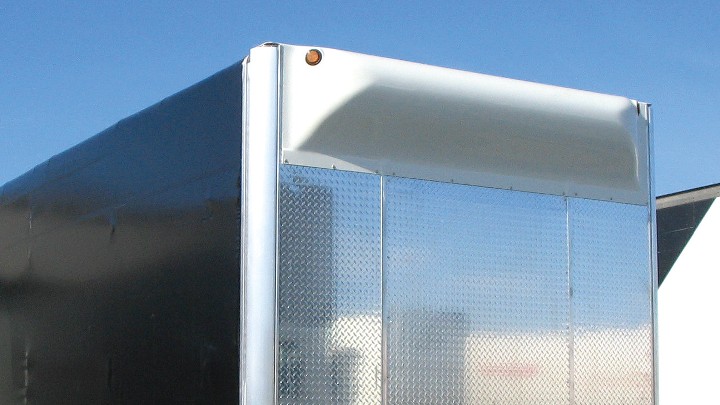 Aerodynamic Headboard Design;
Optimised using air flow analysis software to offer you improved fuel economy; Can be smooth skin aluminium or tread plate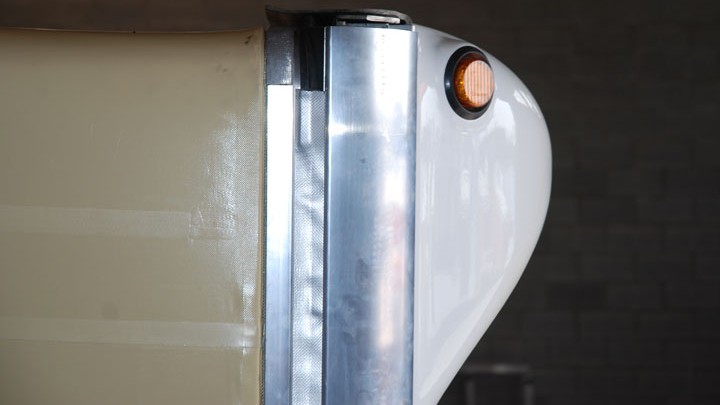 White Air Deflector with Recessed LED Clearance Lights;
Designed by Chameleon & available only for Chameleon.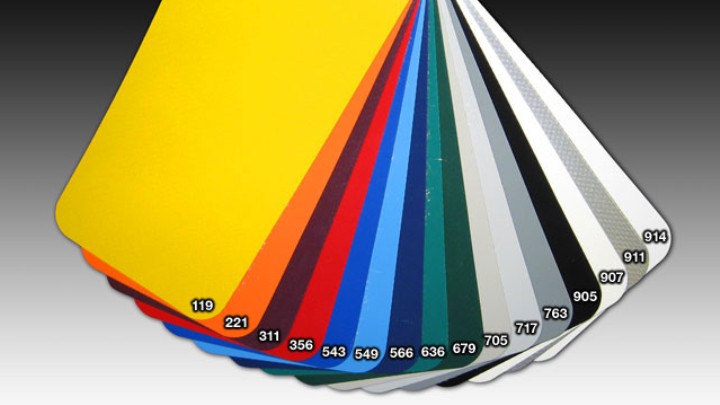 High Tenacity Fade Resistant UV Protected Shell;
Many colors available; Standard translucent white roof.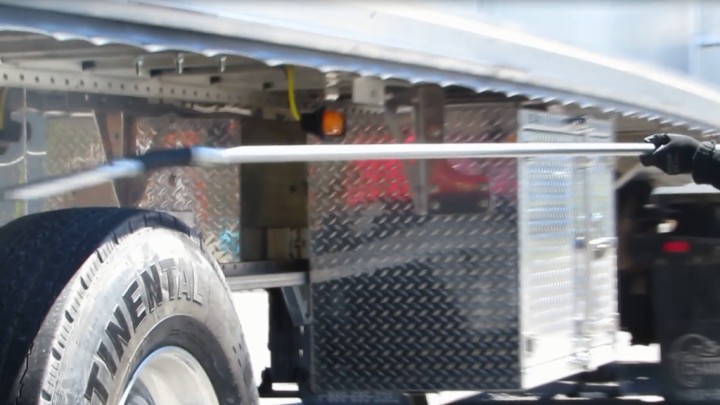 Roll-up Door with Winding Device;
Allows 100% load clearance by rolling onto the roof.
Rope Operated Roll-up Door Available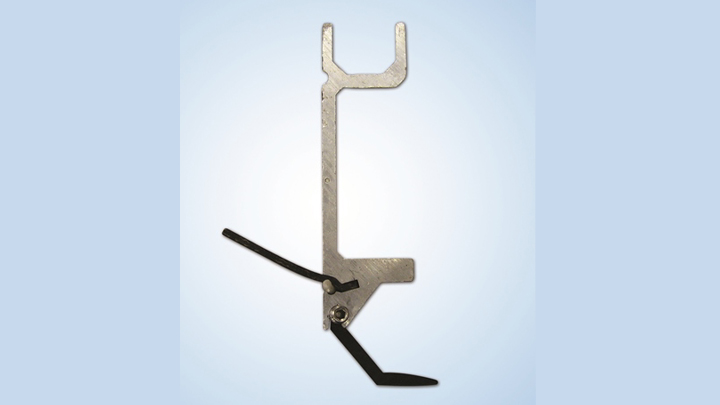 Dual-Mudguard Sealing;
Stops road-spray from entering the loading space; Seals around straps to keep water out.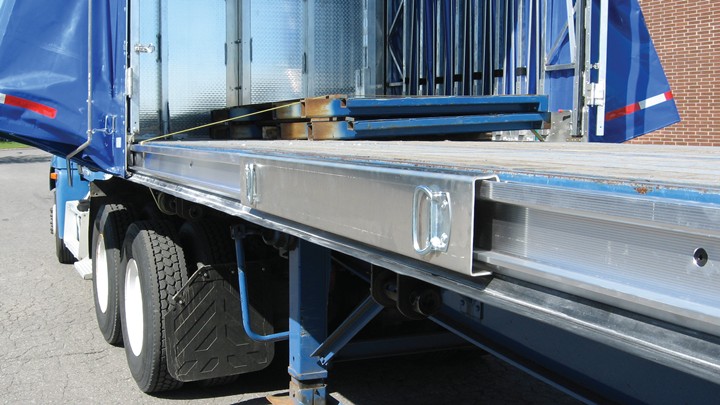 Removable Railguard;
Protect your tarp systems' rails when loading or unloading.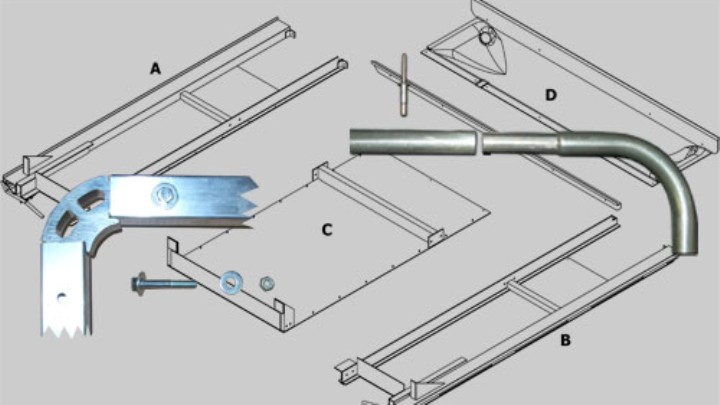 Easy-to-repair Modular Structure;
Chameleon is continually making its systems easier to repair.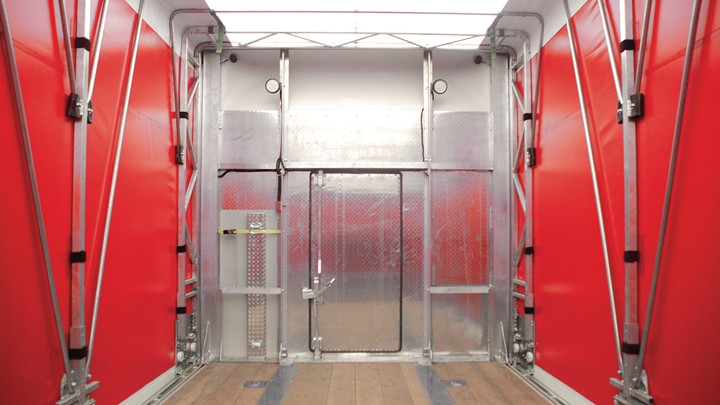 Headboard Access Door;
30"x60" opening with 3-point locking system. Custom size and configurations available.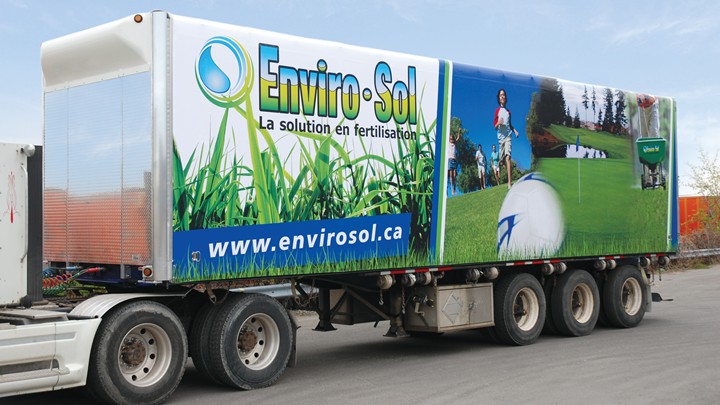 Customized Graphic Packages;
Take advantage of your moving billboard and advertise your company.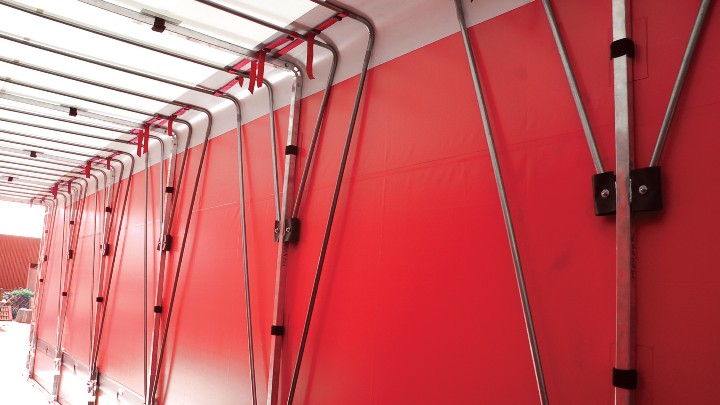 Double Lift Bows;
to double the number of lift bows decrease the hang of the tarp from 8″ to 3″ when the system is retracted.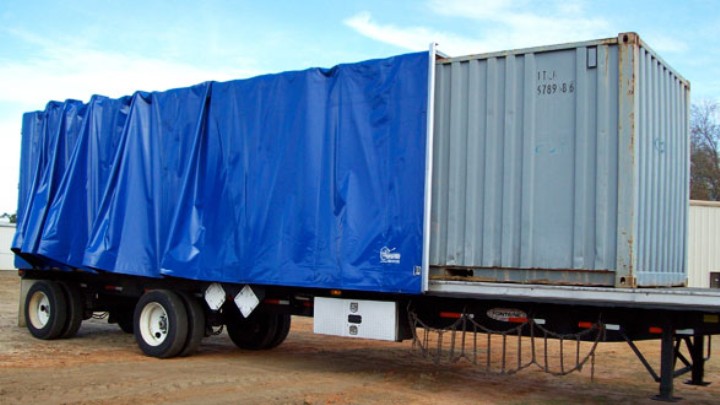 Oversized Heights & Widths;
customize your system height or width to accommodate your specialized loads.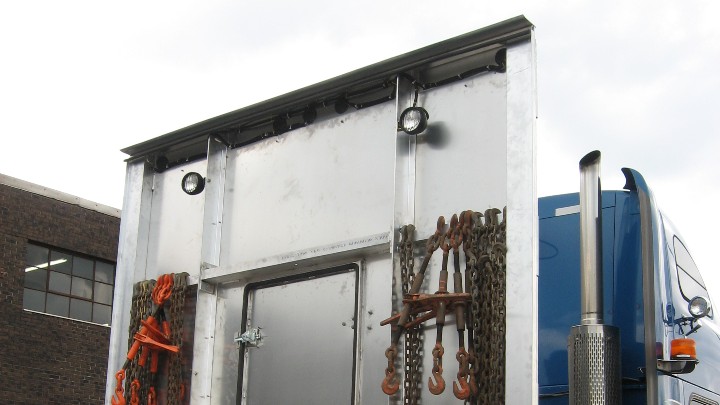 LED Work Light;
2 LED flood lights to illuminate your loading space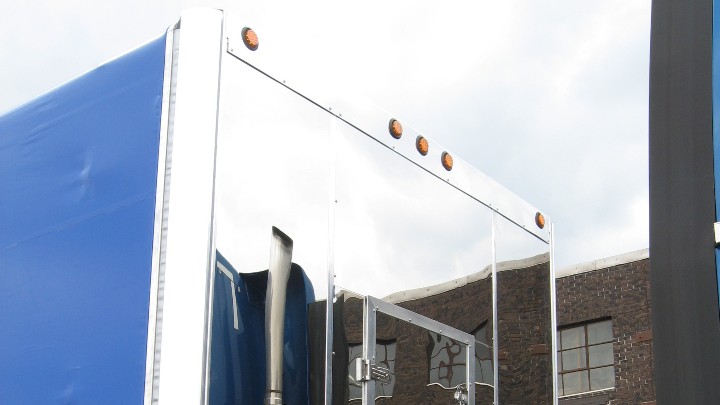 Five LED Lights Across Headboard Top
Stainless Steel Headboard;
Upgrade your head board with sleek and polished stainless steel.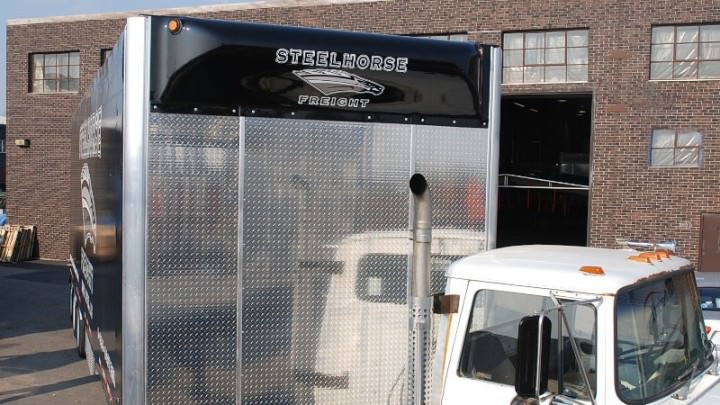 Customized Air Deflector;
Custom color-matched paint; Custom decals.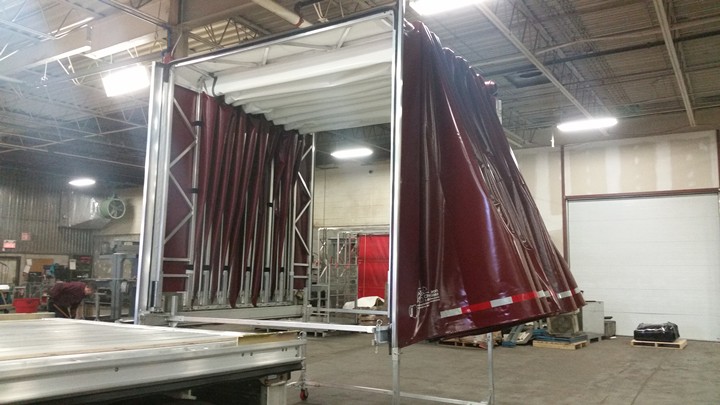 Roll-off Stand;
Oversize loads? Roll the tarp system off the trailer and store it with the roll-off stand.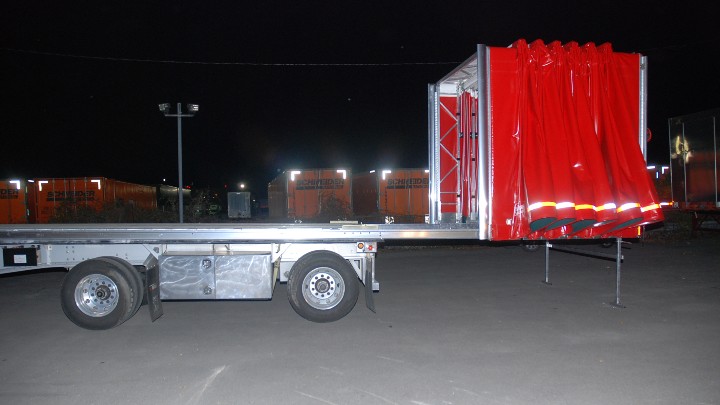 Rail Extensions;
Allows access to the entire length of the trailer by rolling the system onto the rail extension.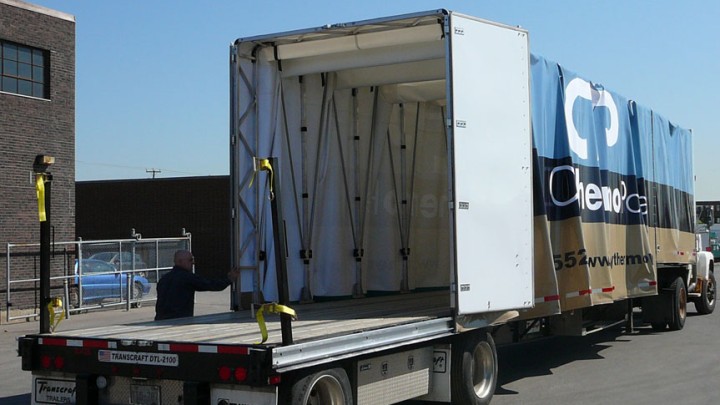 Van-Style Rear Doors;
Offers additional security and accessibility.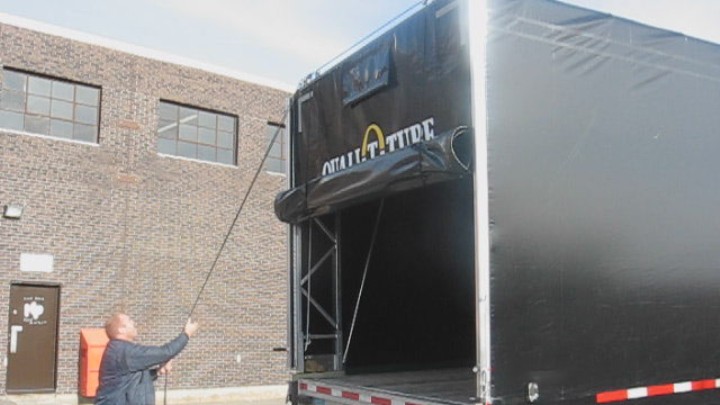 Door Lifting Device;
Lifts rope operated roll-up doors up to clear your high loads.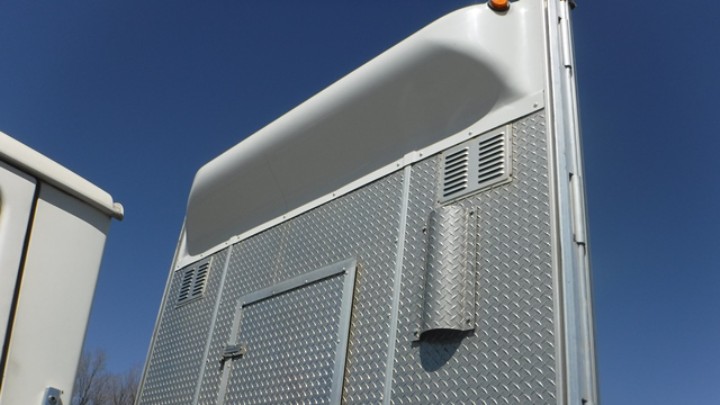 2 Adjustable Headboard Vents;
Provides extra ventilation
Tarp Extension;
Allows to cover 12" of the back of the Trailer
Customized Chain Rack behind Headboard