Engineered Design
Knowledgeable and innovative designs and upgrades engineered to your needs
Customize your Chameleon; Van doors, digital photo graphics, double lift bows, and etc.
Continually developing and updating our rolling tarp systems
Offering upgrades and retrofit guides applicable to our existing systems
Industry Leading Service
Largest dealer and service center network in the industry; 45 locations in North America
Experienced service centers facilitated with the support, tools and know-how
Industry-leading sales and technical support
Giving away safety features and upgrades free-of- charge; Standard air-deflector, LED lights, chain rack, reflective tape on tarp/door and more…
Quickest and Safest Rolling Tarps System on the Market
Save your time loading & unloading your cargo
The Safest system fully operable without putting a foot on the truck or trailer
Reduce downtime due to modular design allows quick and easy repairs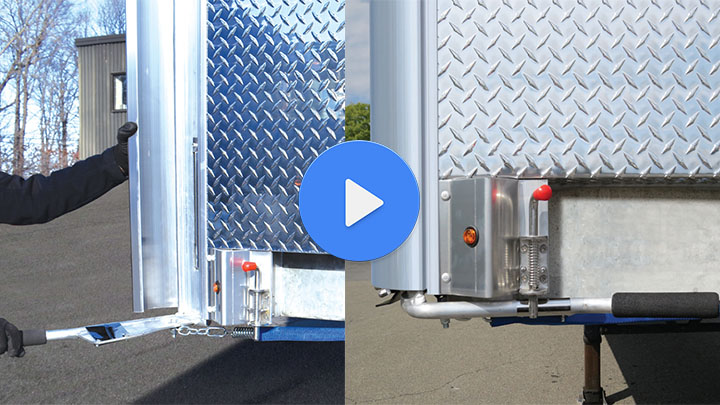 Front Tensioning System - No Tools Required;
Quickly open the tarp system without opening the rear door; Do deliveries quicker.
Rear Locks with Tarp Tensioning Adjustment;
Simplest and quickest locking system; Adjust tarp tension when you need or want to.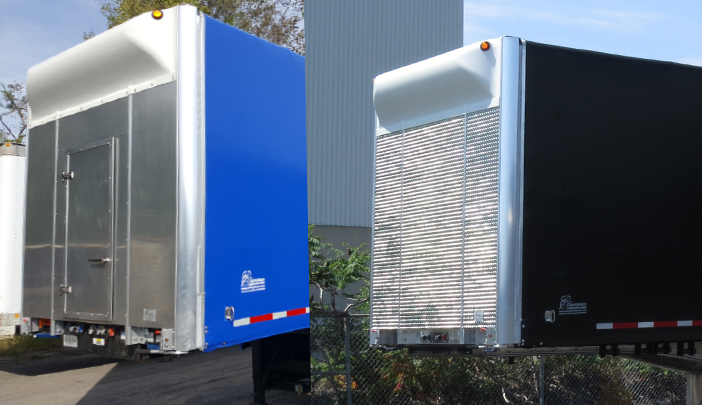 Headboard Finishes with Aerodynamic Design;
Choose a Smooth Mill Finish or a Gloss Tread Finish at no extra charge.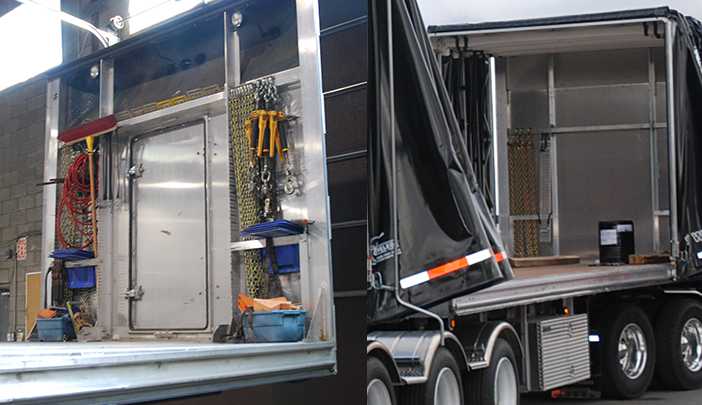 Standard Integrated Chain Rack;
Keeps your chains organized on the front of the deck.
White Air Deflector or Aluminum Top Plate;
Air Deflector improves fuel economy and tarp longevity; Both options feature 2x LED clearance lights.
Advanced Fabric Technology Design;
Many standard colors available; Standard translucent white roof lets the light shine in; Welded seams not sewn.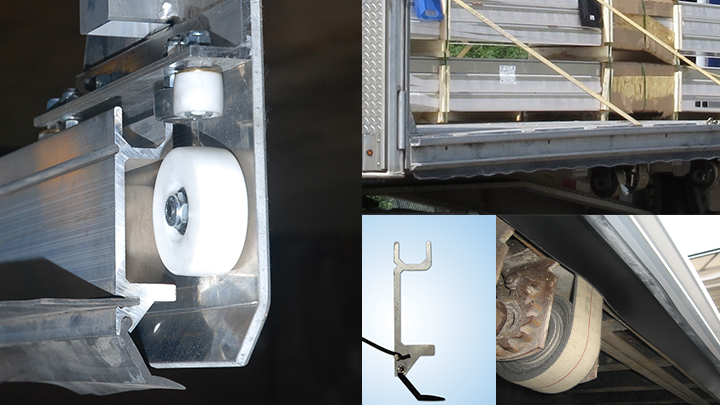 Dual-Mudguard Sealing Rail System;
Stops road-spray from entering the load volume. Flexible rubber seals around straps to keep water out.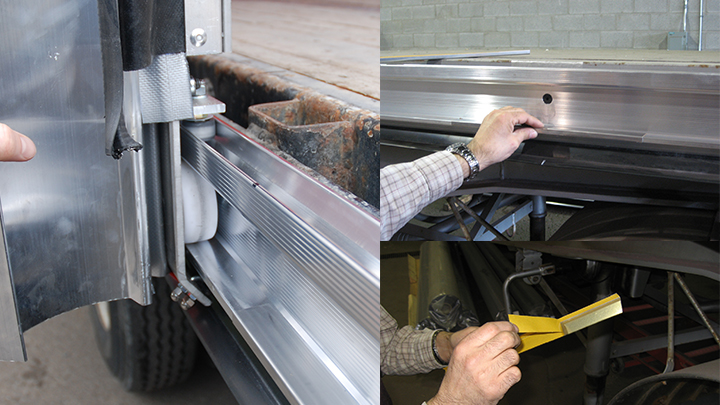 Wheels & Rail System;
Low-friction wheels with sealed SST bearing; No greasing needed; Small guide wheel for easy 1-person operation.
Rear Door Operation;
Rope-Operation: For quick in-town deliveries; No tool required. Crank-Operation: Rolls onto roof using a crank tool, 100% load height clearance.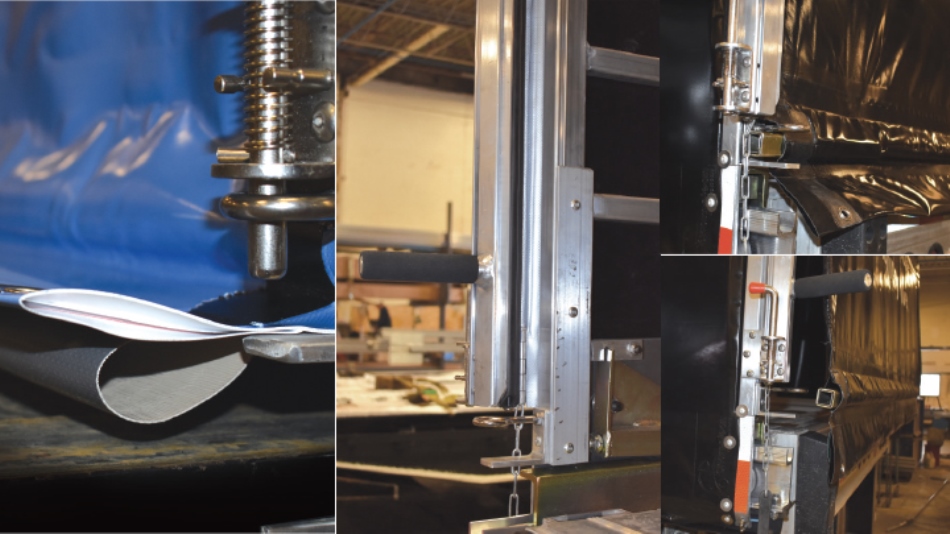 Rear Door Sealing System;
Mechanical door clamp system seals/secures the sides of the door better than velcro/buckle systems; 2-stage sealing system along base of the door for a tight seal against snow and road spray.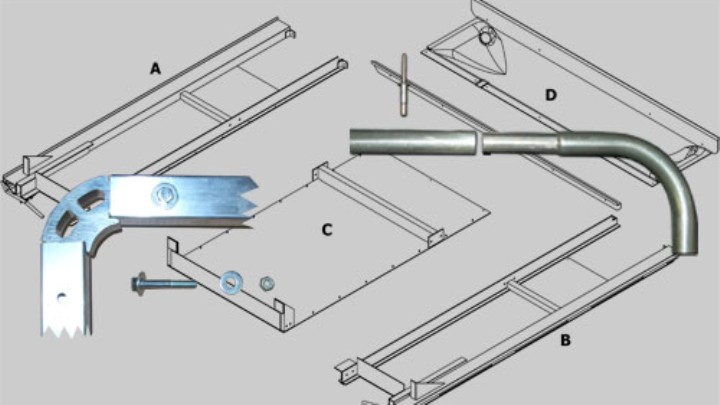 Easy-to-Repair Modular Structure;
Chameleon is continually making its systems easier to repair; 95% of the parts can be couriered to get you back on the road quicker.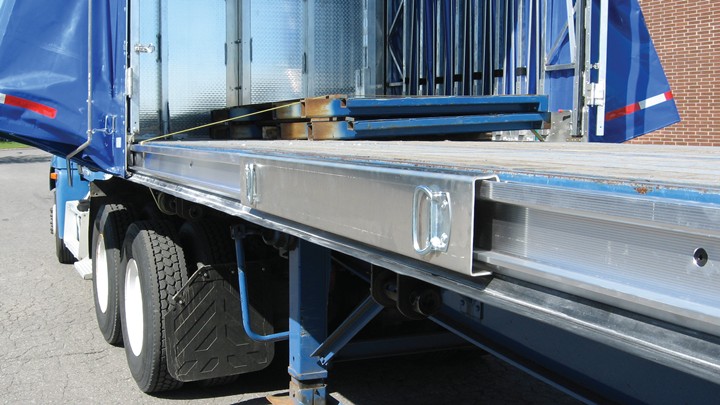 Forklift Railguard;
Protect the rails against forklift collision when loading and unloading. Center where you want the forklift to load.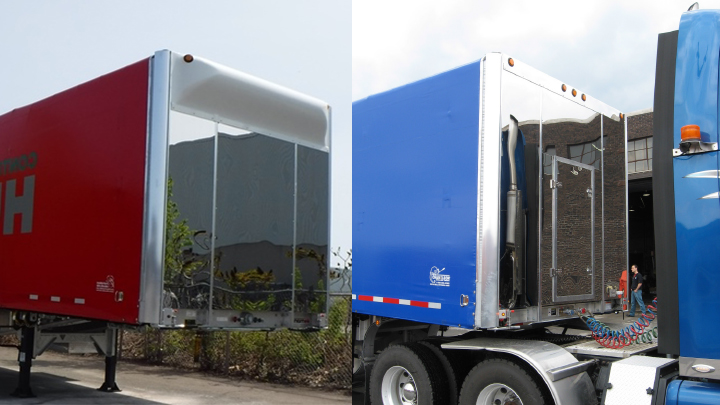 Stainless Steel Headboard;
Mirror-like stainless steel skin on a lightweight aluminum structure.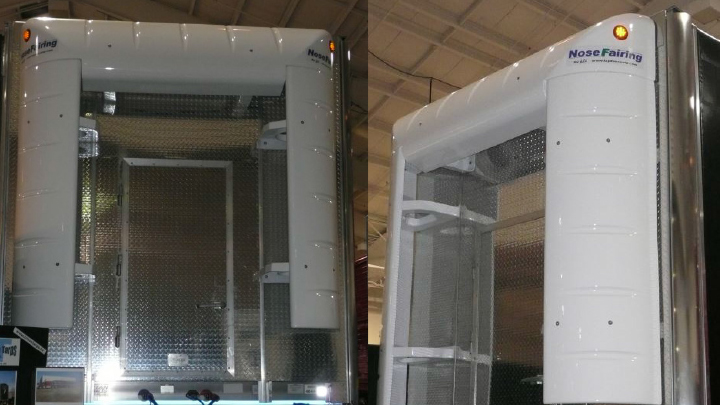 Headboard Aerodynamic Kit;
Fuel saving of 2-3%; Pays for itself in 12 months; Do not interfere with turning radius of the tractor.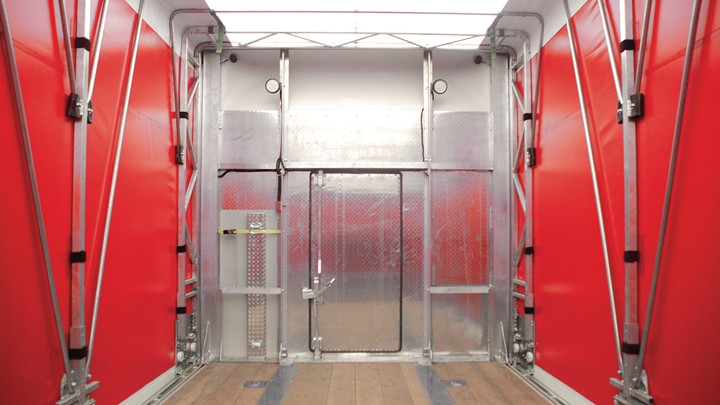 Headboard Access Door;
30"x60" opening with 3-point locking system; Exterior and interior handle. Custom sizes and configurations available.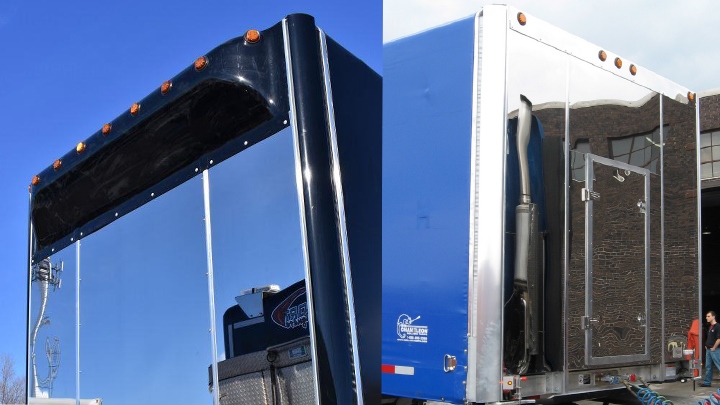 Custom Headboard Lighting;
Custom Setups available. Let us know what lighting setup you would like to see.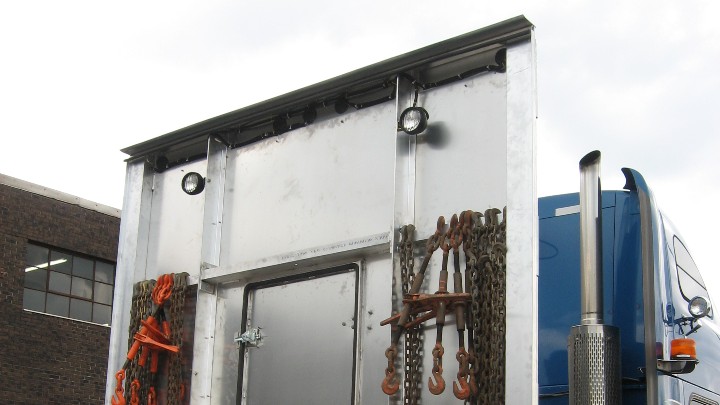 LED Work Lights;
2 LED floodlights to illuminate your loading space. Custom lighting solutions.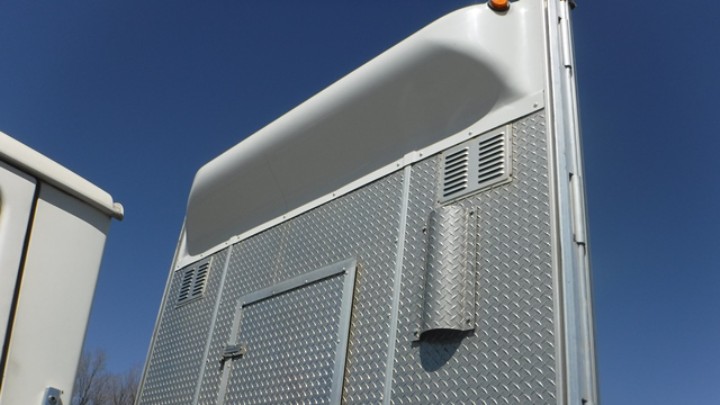 Adjustable Headboard Vents;
Provides extra ventilation. Gas Transport. Food product transport.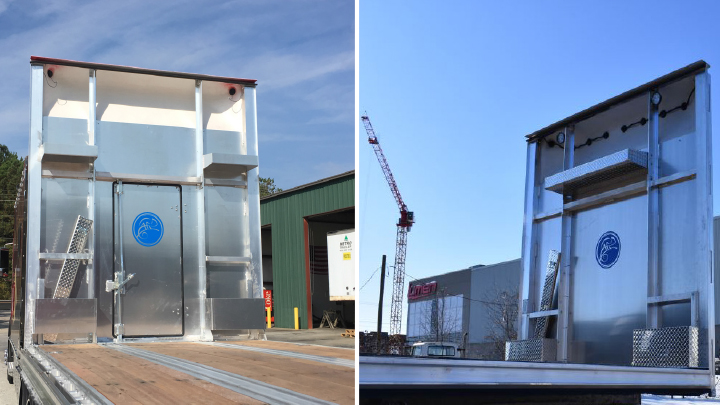 Headboard Shelving;
Customized to your needs. Shelves, hangers, and trays.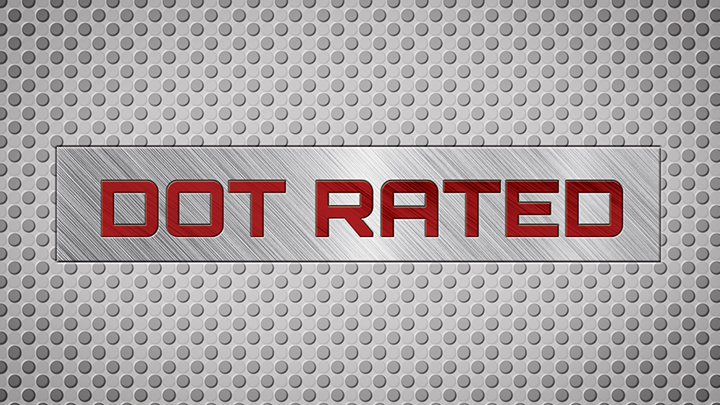 DOT-Rated Headboard;
58,000 lb rating; Tested according to 49 CFR 393.114 (c) 2. Headboard access door not available on DOT headboards.
Emergency & Stobe Light Kits;
Customized to your needs.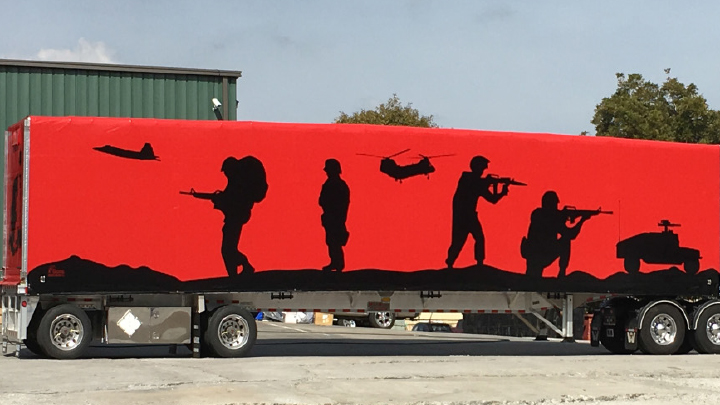 Graphics - Stenciled
Traditional stencils are painted with a flexible anti-fade ink. Easy to clean. Color matching available; In-house graphic design services.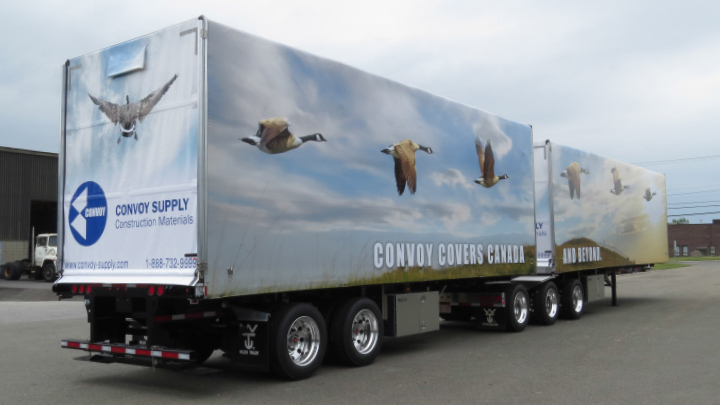 Graphics - Digital;
Less expensive than a billboard and seen by millions. Photo quality printing technology. Affordable in-house graphic design services available.
Rear Door Extension Kit;
Cover a load that extends past the rear of the deck. 10-12in extension. Neatly folds away into rear bow frame when not in use.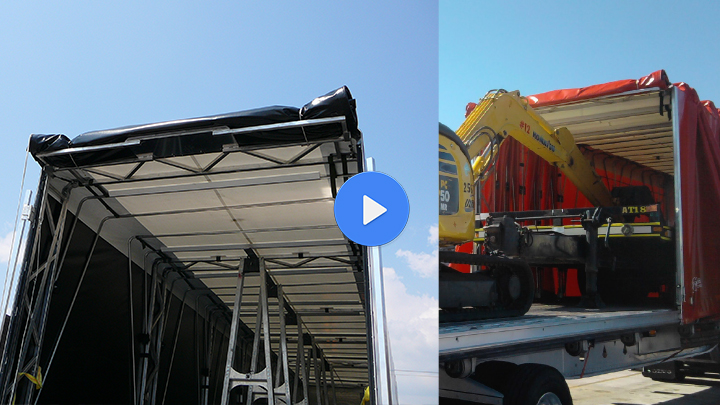 Rope Door Lifting Device;
Gas-cylinder powered frame lifts rope operated roll-up door up to clear your high loads.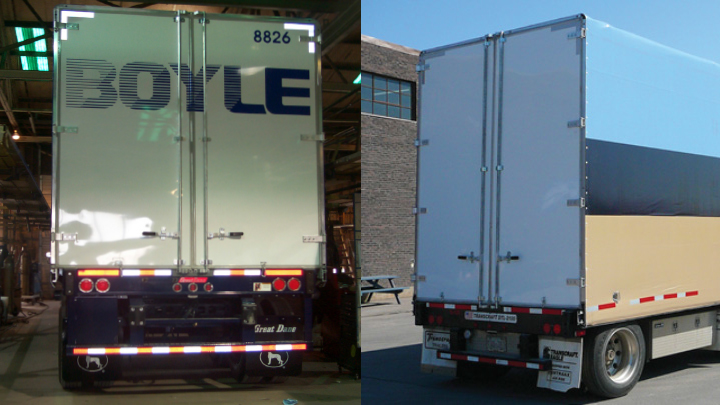 Van-Style Rear Door;
Standard in White. Color matching available. Decals available.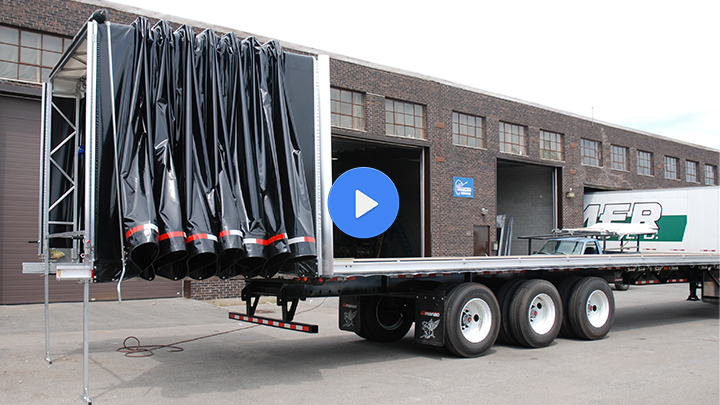 Rail Extensions;
Allows access to the entire length of the trailer for extra long loads. Portable - Disassembles to travel with trailer.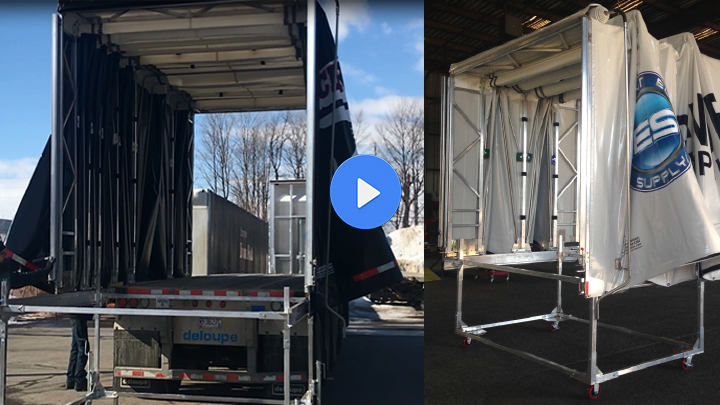 Roll-off Stand;
Oversize loads? Roll the tarp system off the trailer and store it with the roll-off stand.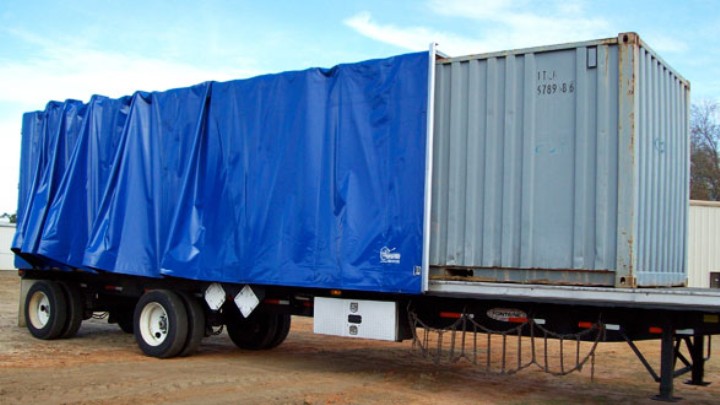 Oversized Heights & Widths;
Height: Up to 144" inside height.
Width: Up to 104" inside width.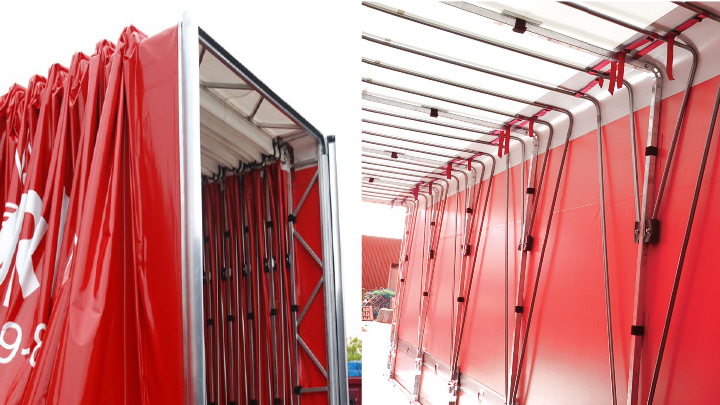 Double Lift Bows;
Decrease the roof fold hang from 8" to 3". Highly recommended if you haul high loads.